Steve Austin – Chairman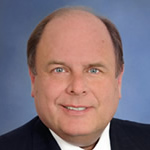 Steve Austin manages audit, SEC, Sarbanes-Oxley, and business consulting engagements with a focus on technology, manufacturing, service, real estate, social media, and non-profit organizations.
He is the author of the book "Rise of the New Ethics Class." Steve speaks worldwide on governance, Sarbanes-Oxley, and IFRS matters and writes articles published by the AICPA.
Professional Experience
1998 – Present   Swenson Advisors, LLP – Firm Managing Partner
1996 – 1998   McGladrey & Pullen, LLP – Audit Partner
1976 – 1996   Price Waterhouse, LLP – Audit Partner
Board of Directors | Audit Committee Chairman*
Brandman University – Regent
Faith Community Church – Elder
Family Heritage Foundation – Board of Directors
InSoCal CONNECT – Chairman of the Board
Integra International* – Global Board of Directors
Murrieta Genomics, LLC – Board of Advisors
Oak Valley College – Board of Advisors
Red Flag Group (Hong Kong)* – Board of Directors
Santa Fe Christian Schools* – Finance and Endowment Committees
Summit Ministries* – Chairman of the Board
Western Seminary – Trustee
Thought Leadership | Speaking Engagements
Accounting Day – 2004 to present
AICPA National CFO Conference – 2009 to 2012, 2020
AICPA National Audit Committee Forum – 2010 to 2012
Author of numerous Journal of Accountancy articles
CPA Canada Conference for Audit Committees – 2015
CCH – SOX/IFRS workshop (Shanghai China) – 2010
Hot Topics Seminar – 2008 to present
Integra International conferences – 2000 to present
Lease accounting webinar for Accounting Today – 2020
Shanghai University of Finance and Economics – IFRS workshop – 2010
University of Georgia, Institute for Leadership Advancement – 2016
Professional Designations
Certified Public Accountant – California and Georgia
Education
University of Georgia – Terry College of Business, MBA
Bob Jones University
Family
Steve is married to his wife Gail for 40 years and has 3 daughters, Krista, Stephanie and Sarah. He is also a proud Grandfather of twin grandchildren.